The Best Phone Mirror Cases & Accessories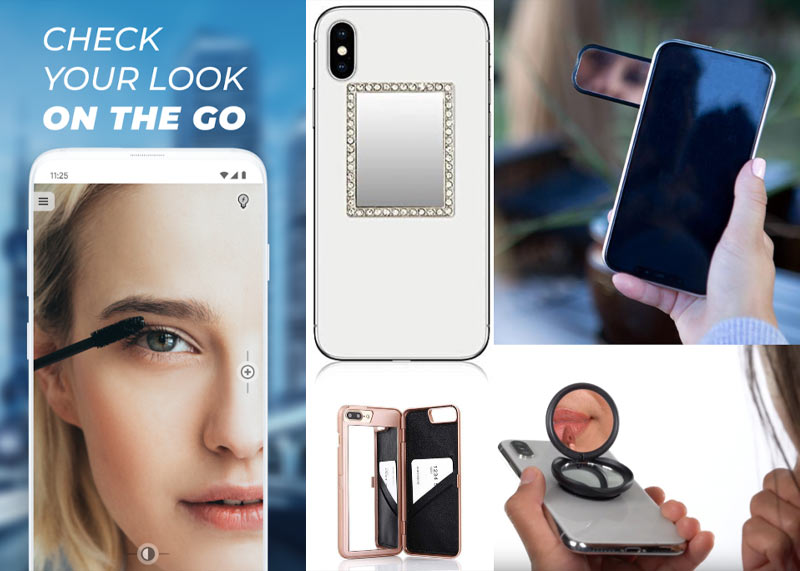 The case for having a mirror on your phone grows by the day, as we spend more and more time trying to snap good selfies, chatting on facetime or having business meetings on Zoom.
Those few seconds you have to check your appearance can be maximized when you have an easily accessible mirror. 
In this article we'll review the best options you have for a stick on phone mirror or a phone mirror case.
Our choices for best phone mirror (from best to worst)
The Flickstick (Our Top Pick!)
While this might not come as a surprise, after testing everything on the market, we believe the Flickstick is hands down the best mirror for a phone. It's one of the reasons we invented this product. 
The Flickstick has several functions. It's a universal phone grip, a selfie stick, the world's best stand (in our humble opinion) and it has a hidden mirror. 
The mirror itself can be accessed when you rotate the Flickstick around on the phone. Why is this good? Because it protects it from scratches.
Not to mention the mirror itself is a good size and because its integrated into the stick, it has a very slim form factor. Once installed on your phone, it can slide in and out of pockets with ease. Something most of the other mirrors can't claim.
The Casely Wallet Flip Mirror
The Casely Wallet & Mirror is our next choice. It's a phone mirror case & wallet built into one. After testing, we love the big mirror, BUT we hate the size of the case. 
If you enjoy carrying a brick around, then this might be for you. But we found the case, wallet, phone mirror combo to be too much. Even holding this beast up to your ear for a call felt like a workout. 
The Popsocket Mirror
Our third choice is the Popsocket mirror. A stick on phone mirror, this installs just like the Flickstick. 
The biggest gripe we had this this mirror is how much it sticks off the back of the phone. It's almost like this was design to snag on your pocket. 
We found this very difficult to carry around in a front or back pocket, but the dual mirrors was a cool feature. 
iDecoz Phone Mirror
This is another stick on phone mirror made by iDecoz. Incredibly simple but has one big flaw, there's nothing to protect it from getting scratched on the back of your phone. 
And, honestly, it's kind of ugly.
But this one gets a big thumbs down mainly due to the lack of protection and ease of scratching.  
The phone mirror app
Phone mirror apps are nothing new. They've been around since the dawn of the app stores. Frankly, we don't really understand the difference between a "mirror app" and just using your selfie cam. 
The main reason we don't like this choice is...what's the point? I really don't want to install an extra app when I can just use my selfie cam. 
But there's something to be said for using a real flat mirror vs video of oneself. We found using a real mirror to be a better experience.

The Phone Mirror App
This phone mirror case ranks at the bottom of our list. The mirror itself is huge, which is great. 
What's not great is that it was so scratched up after just a few days of testing, we had to stop using it. 
Conclusion
We've covered every option for phone mirrors currently on the market. And while there are many options, there aren't many good options. 
That is why we created the Flickstick Phone Stand, Grip & Mirror. Not only does it have a slim profile, it also has several amazing functions. 
One thing is for sure, having a mirror handy in your pocket at all times is extremely useful.